Help is Here for Water Damage Restoration in San Jose
1/31/2021 (Permalink)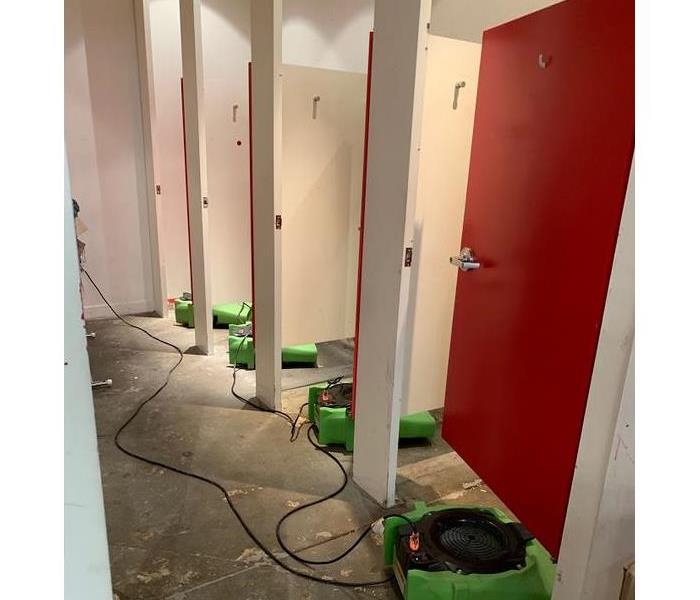 Facing water damage? SERVPRO is ready to help with restoration equipment and many experienced technicians. Call right away!
Even the most modern properties can suffer water damage
San Jose, population 1,021,795, is the most populous city in Northern California. This multicultural gem is well known for being a modern and affluent city that is a seat of technological innovation.
A wealthy place to live, work and visit
The dot com bubble of the 1990s led to increased jobs and business opportunities in Silicon Valley and a housing market boom. Although the dot com bubble is over, San Jose is still a center of innovation and a wealthy city. There are more millionaires and billionaires per capita than in any other part of the United States, and its GDP per capita is the third highest in the world. With expensive homes, all the amenities residents could wish for, and many world-famous employers, San Jose is a city that is looking to the future. Some of the companies headquartered here include Samsung, Acer, Zoom, eBay, and Adobe.
A vibrant arts and cultural center
San Jose is not just about the tech. The city also has a vibrant arts culture, and there is always something to see or do. The city has a public art ordinance, and as a result, many buildings in the downtown area make an effort to include art and design in their spaces.
San Jose is also home to a multitude of museums and historical sites. Some must-see museums and attractions include:
The Tech Interactive Science and Technology Center. This unusual orange and purple colored building houses many exhibits, including space for people to design and build their own robots or view plastinated human bodies. The museum also has its own IMAX theater that shows a mix of mainstream and educational movies and frequently partners with other organizations to run temporary exhibits and outdoor events, such as a Star Wars exhibit.
History Park lets visitors experience an early 1900s Californian town. Replica buildings on display include a blacksmith, post office, doctor's surgery, dentist's office, a working print shop, and a firehouse. Most facilities are free admission, and there are frequent events throughout the year. Many of the replicas are now home to galleries or individual interest societies.
The Portuguese Historical Museum honors the history of Portuguese people in the area. Exhibits take the visitor on a journey from the early European colonization of America to Portuguese settlements in the Santa Clara Valley.
The Japanese American Museum of San Jose focuses on Japanese American art, history, and culture, especially relating to Japanese American culture in the San Francisco Bay area.
SERVPRO helps dry San Jose homes after water damage
Water damage can happen all too quickly. Common causes of water damage include:
Broken pipes
Backed up toilets
Overflowing sinks
Damaged or leaking appliances
After water damage, it is essential to dry your home as soon as possible. SERVPRO uses air movers to help with the drying process. First, we extract water using pumps and extraction tools. Then, we measure the moisture levels in carpets, walls and floors, the temperature, and the humidity. The readings help us create an optimal drying environment. Finally, we set up a range of axial and centrifugal air movers to encourage evaporation and speed up drying.
For help with water damage restoration, call SERVPRO of NE San Jose at (408) 834-7663.